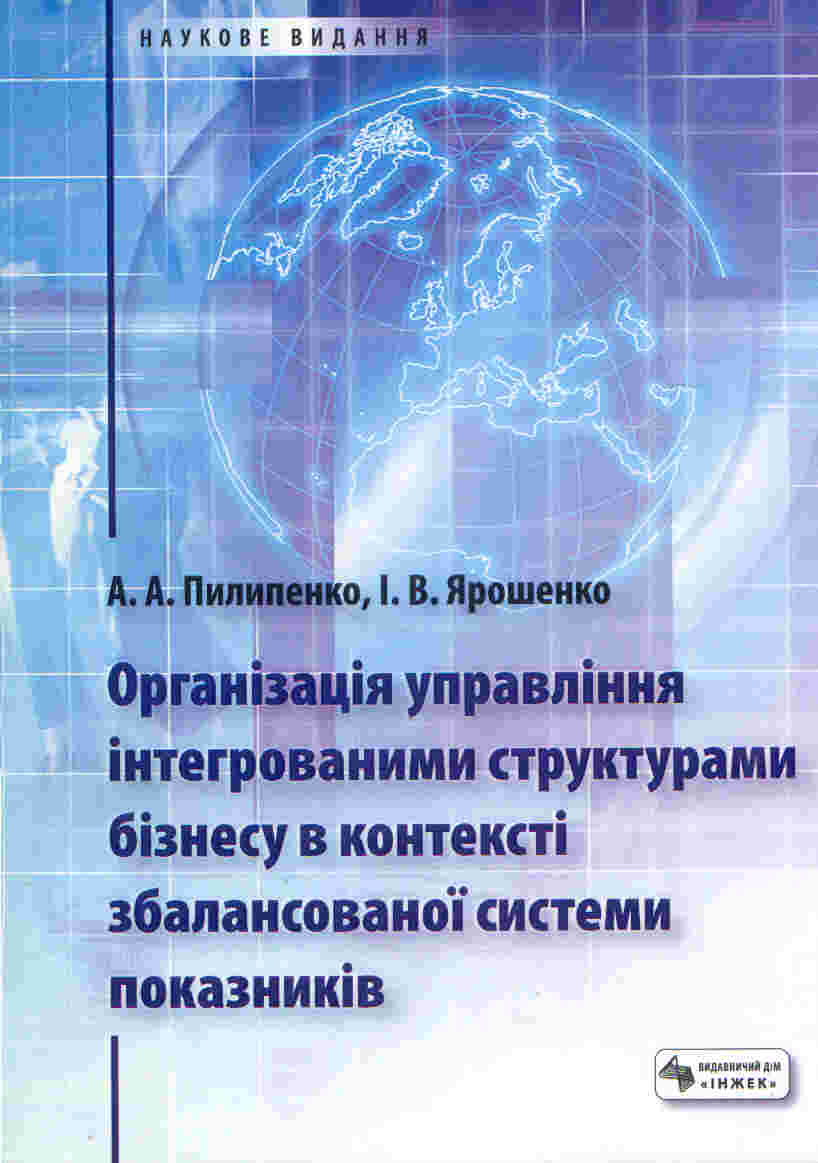 THE INTEGRATED BUSINESS STRUCTURE MANAGEMENT ORGANIZING BY BALANCED SCORECARD TOOLS
Pylypenko А.А. The Integrated Business Structure Management Organizing by Balanced Scorecard Tools: monograph / А.А. Pylypenko, І.V. Yaroshenko. – Kharkiv: PH "INZHEK", 2007. – 152 p.
The monograph deals with questions of theoretical study and develop methods to ensure the formation mechanism of control structures integrated business based on the use of the Balanced Scorecard. The features of the strategic use of measurement entities in the context of an enlarged understanding of what constitutes an integrated business structure. Made a new understanding of the strategy of the integrated structure-oriented allocation of component integration and the roles of participants of the integration of education and the corporate center. A model of the reference implementation of the Balanced Scorecard. The necessity of targeting strategic imperatives of integrated structure to increase its capitalization and market value. The use of the developed scenario IPO as part of regulatory and regulatory ensure strategic direction of integrated entities. Improved tools implementing BSC. The monograph is recommended for researchers, professionals, graduate students, practical workers and university students of economics.
CONTENTS

Introduction
Chapter 1. Dynamics of development and predictors of integrated business structures in the coking and steel industries Ukraine
1.1. Trends in global and national markets coke and steel products and their integrative framework
1.2. Theory and practice of integrated structures of different forms of capital
Chapter 2. Features of development strategies and the formation of strategic management development integrated business structure
2.1. Capitalization and initial public offering as a prerequisite for sustainable economic growth zabezpechechennya integrated business structure
2.2. The strategy of integrated business structure and especially its identification
2.3. Developing strategic measurement systems and the emergence of alternative conceptions of representation
Chapter 3. Implementation of integrated management mechanism structure based on the use of the balanced scorecard
3.1. Reference model implementing a balanced scorecard management practices in national integrated business structures
3.2. Showing the development and implementation of integrated development strategies structures coke and steel industry in Ukraine Balanced Scorecard
Chapter 4. Methodological approach to improving the management of integrated business structure based on balanced scorecard
4.1. Improving the process of forming strategic tools imperatives of integrated business structures
4.2. Organization of functioning of the strategic management an integrated form, based on a balanced system of indicators
Conclusions
Literature
Supplements