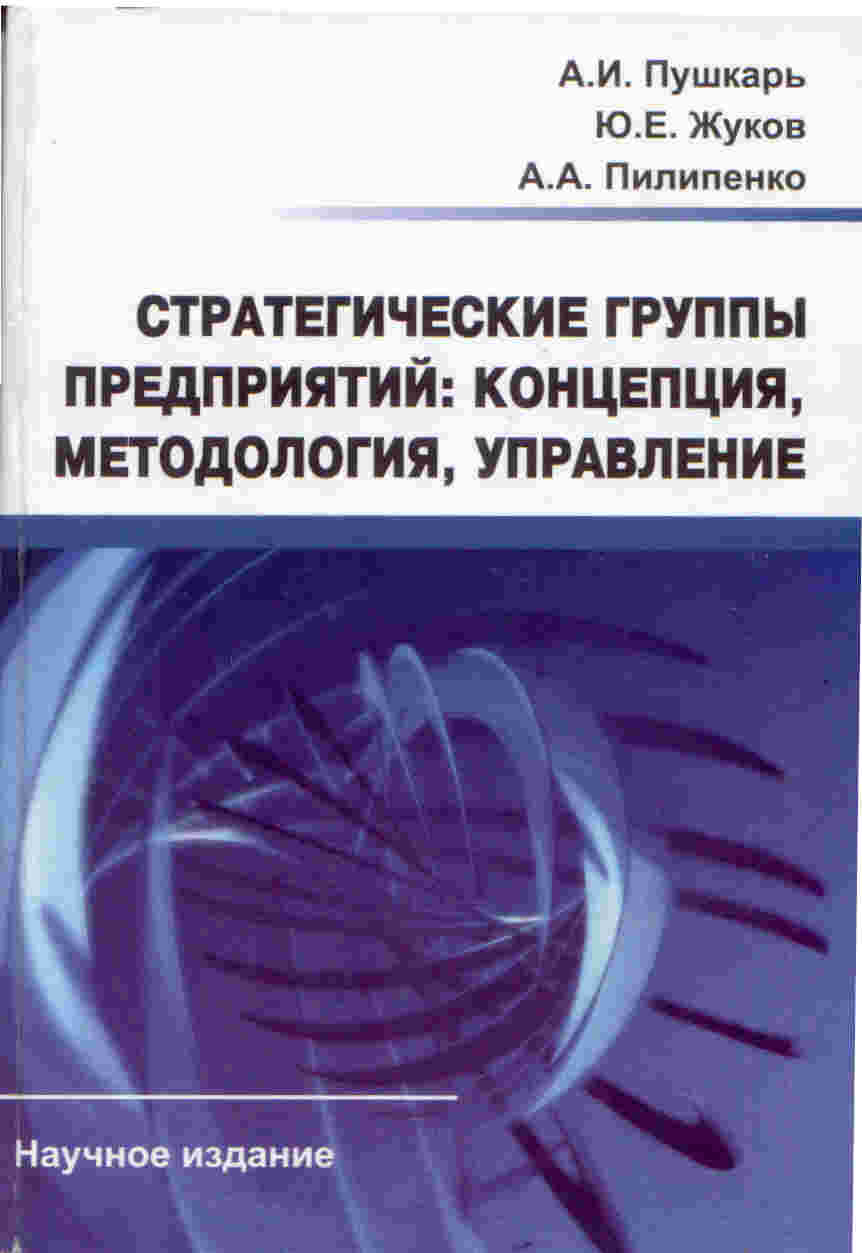 СSTRATEGIC GROUPS OF ENTERPRISE: CONCEPT, METHODOLOGY, MANAGEMENT

Pushkar А.I. Strategic groups of enterprise: concept, methodology, management: научное издание / А.I. Pushkar, J.Е. Zhukov, А.А. Pylypenko. – Kharkiv: Cross Road ltd., 2006. – 440 p.
The monograph examines the challenges presented to the methodology, theoretical investigations of the functioning of strategic enterprise groups. From the standpoint of a systematic approach investigated prerequisites for the formation of the corresponding system of integrated management. The conceptual basis for the development and implementation of the strategy group development. Considerable attention is paid to the intra-logistics processes in relation to the organization of the mutual monitoring of group members and the formation of corporate information-analytical system. The detailed analysis of the prerequisites of enterprise groups and developed their typology. Improved technology assessment organization and efficiency of the joint activities of the group companies. Developed reflexive model of group interaction with market agentami.Dlya managers and specialists of industrial enterprises, researchers, teachers and students of higher educational institutions and economic profile.
CONTENTS
INTRODUCTION
CHAPTER 1: THEORETICAL AND METHODOLOGICAL PROBLEMS OF FORMING STRATEGIC GROUP COMPANIES
1.1. Concept and typology of strategic groups of companies
1.2. Global economic trends and predictors of enterprise groups
1.3. Integrativizm and institutional framework for harmonization of the conditions of joint activities
CHAPTER 2 SYSTEM APPROACH TO INTEGRATED STRATEGIC GROUP OF ENTERPRISES
2.1. The essence and principles of integrated management of groups of enterprises
2.2. The structure of the integrated management
2.3. Logistics cooperation and the formation of integrated value chains
CHAPTER 3: STRATEGIC ANALYSIS OF AND EFFECTIVE JOINT BUSINESS, THE GROUP
3.1. Technology organization and structural analysis of the configuration of the group of companies
3.2. The concept of group synergy potential and assessing the effectiveness of its use
3.3. Assessment and management of group companies konkurentoustoychivostyu
CHAPTER 4 THEORETICAL BASIS OF THE DEVELOPMENT AND IMPLEMENTATION STRATEGY DEVELOPMENT GROUP
4.1. The concept of group development strategy
4.2. Methodical approach to strategy development group
4.3. Coordination of the interests of the joint activity as a basis for implementation of the strategy group development
CHAPTER 5: INFORMATION AND ANALYTICAL SUPPORT SYSTEM OF INTEGRATED MANAGEMENT OF THE GROUP
5.1. Organization controlling the group of enterprises
5.2. Development of an integrated information-analytical system
5.3. Knowledge Management in the integrated management of strategic groups of enterprises
CHAPTER 6 MODELLING GROUP INTERACTION
6.1. Intragroup interaction model
6.2. Reflexive model of interaction with the agents of the market environment
6.3. Monitoring sites of interaction
6.4. Strategic Cost Management group of companies
Conclusions
Literature
Supplements